This dealership has been a pleasure to work with. It was a night and day difference compared to the other car dealerships I've visited and contacted. Ali was my primary contact and he will be the first person I call the next time I'm shopping for another vehicle. The entire time it felt like he was working for me in a very professional and friendly manner helping me find the car that my wife and I liked while staying within our budget. I never felt like he was trying to push a car on us in the same way other dealers do. Murad was with me during the signing process and was very patient answering all of my questions. Even when the warranty options were offered I still felt no pressure from him trying to up sell anything. This is only the second car I've purchased on my own so I took my time reading everything and Murad explained everything to me carefully and made the paper work easy to understand. I am very pleased with my purchase and want to thank all the staff for their excellent service! If Birmingham Luxury Motors has the type of vehicle you are looking for I would highly recommend visiting their lot. Amos Herron
Amos Herron
3/13/2019
I normally hate the car-buying experience. Warren was extraordinarily helpful, friendly, and patient (with my dumb questions) AND offered me a stellar deal. Can't recommend Warren Fuller and BLM enough. Thanks. Roy Burns
Roy Burns
2/8/2019
My wife and I bought a car here recently. They had exactly what we were looking for and even stayed late one night so we could test drive the car. They were very thorough and professional. Overall great experience. Thanks guys! Luke Wade
Luke Wade
1/10/2019
Best car purchasing experience ever! I found Birmingham Luxury Motors on Cargurus. They had the fairest price on every car I researched for our family in the City of Birmingham! I left my email and was contacted back via email by Ali Morani. I texted him and he was very accomodating to meet me early hours before opening and had several cars picked and ready for me to test based on my needs description. He fully understood what each vehicle featured and the brand statistics. He advised me on what to look for when choosing a used vehicle and showed me how to look at the engine and body. My experience was truly customer centered with NO pressure! When I finally narrowed down what I wanted to purchase, Murad worked with me on my trade and staying within my budget rance. Ali was part of this experience as well. This was the cleanest, fastest car purchasing experience I've ever had! The owner, Hussein, gave my car a final look before I drove away and recognised that though my Sonata was advertised with new tires, the tires showed wear. He told me to set up an appt to come in for new tires because that was what was promised. My experience could not have been any better! I wholeheartedly recommend Ali for a comfortable, knowledgeable and kind car buying experience. As well, I highly recommend Birmingham Luxury motors for their financial transparency, customer first metric, awesome and fair prices and comfortable, personal car buying experience. Five Stars*****
Kathy Claypoole
5/22/2018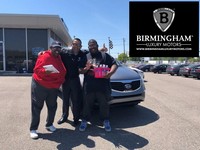 Amazing!!!!!!! One of the best experiences get a car! Great customer service and fast service didn't take a long time to do the paper.
Anthony Davis
4/25/2018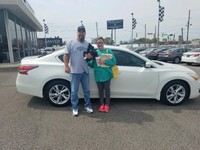 Awesome experience Wonderful place to buy a car from. They have extremely nice cars and at prices. I would diffently buy another car from them. I bought my car today from Melvin he is great! Go see him
Christal
4/25/2018
I enjoyed my experience at Birmingham Luxury Motors. Ali was very helpful and kind. The prices were reasonable and the selection by management there were beautiful. They made the transaction smooth and worked together to deliver a very good customer experience. This is definitely the kind of place you would want to return to for other future purchases.
Kay Shalom
4/16/2018
Hussein, Best in business. Hussein was extremely kind, professional and informative. Everyone around is super helpful, and friendly. Great selection of cars with low mileage and exceptional reasonable price. They will take care of your needs before and after the purchase. Amazing service and people, would highly recommend Birmingham Luxury Motors. Look no further! Thank you Hussein.
John Patel
4/15/2018
My poor little 2012 Passat was totaled out after the hail storm that rolled through Cullman in early April, so as soon as it was picked up by Allstate and the insurance check cleared, we headed straight back to Birmingham Luxury Motors, who sold us our last one two years ago and won some loyal customers in the process.
Cherrelle Fancher
4/14/2018
I love my car. They cleaned it before I got it... well it was already really clean when I test drive it. Very reasonable and amazing customer service... Especially Murad... he... is... awesome! I will be back
Perry
3/25/2018
Pre-approved one day, drove off the lot the next day with a car that surpassed what I was looking to purchase. I will refer and return again for future purchases. Ali and Murad were awesome. Thanks guys
Lottie Conner
3/23/2018
My wife and I recently purchased a Hyundai Sonata from Birmingham Luxury Motors. This Sonata was for our daughter, a college sophomore. Unfortunately, an irresponsible driver hit her in August of 2017 and totaled her Nissan Pathfinder. We are thankful that she just came out with a few nicks, cuts, and bruises. Surprisingly, she did not want to go with another SUV. She fell in love with her friend's Sonata and so the search began! "BLM" had the best selection of those available AND with the most competitive prices! We spoke with Mr. Melvin before we got there and upon arrival. He allowed us to view and drive the Sonata, without being pushy, overbearing or etc...Once we decided upon the purchase, he stayed after hours to obtain a lender and complete all the paperwork, staying we'll passed their closing time! The vehicle was also cleaned and they put gas in the car! My daughter was so happy with this purchase! My husband and I were extremely pleased with our experience at "BHM" and we will certainly consider purchasing here again! Thanks Mr. Mrlvin Terry and Francis Crowder
Francis Crowder
3/19/2018
Awesome people. They helped me get just what I needed. They went the extra mile to make sure I was happy & satisfied.
msadrienne21
3/15/2018
Bill Williamson was a great salesman! This was the best car purchase experience I have ever had. Great car for a great price. I highly recommend to anyone looking to purchase a vehicle.
Tina Egington
2/24/2018
Driver from Athens, AL to buy a 2014 Honda Civic for my daughter. Best buying experience I have ever had at a dealership. Melvin & Murad were very professional and made the experience a great one. Highly recommend these guys! Definately worth the drive!
Olivia Crouch
2/22/2018